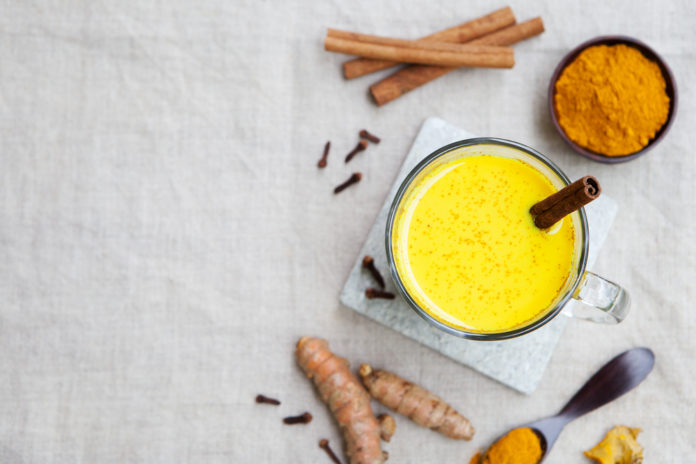 Ingredients
1 cup almond milk
1 tablespoon honey
1 teaspoon ground ginger
1 teaspoon ground turmeric
½ teaspoon cinnamon
¼ teaspoon nutmeg
Sprinkle of black pepper
Instructions
Gently heat almond milk in a small sauce pan over low-medium heat until it starts to simmer.
While the milk is heating, mix honey, ginger, turmeric, cinnamon, and nutmeg in a blender until fully incorporated.
Pour heated milk into blender and mix until smooth and frothy.
Pour into favorite mug and garnish with ground black pepper and an extra dash of cinnamon.
The Benefits of the Ginger + Turmeric Latte Ingredients
Ginger
The pungent and spicy flavor of ginger complements this turmeric latte, along with granting anti-inflammatory benefits well-known in alternative medicine. Evidence shows ginger can treat an upset stomach, nausea, vomiting, and digestion, along with easing pain related to menstrual periods, headaches, and various forms of arthritis.
Turmeric
Coming from the turmeric plant, turmeric is a spice extremely bright in color and known for its warm, bitter taste in curry dishes. (Oh, and this soothing turmeric almond milk latte!) But aside from its culinary use, turmeric root has extensive health benefits primarily related to its curcumin content. Curcumin, the chemical providing the vibrant color of turmeric, is suggested to reduce inflammation and combat against infection, along with treating a number of ailments such as headaches and arthritis. The addition of pepper in the turmeric latte recipe is valuable in the absorption of turmeric within the body.
Cinnamon
Cinnamon not only offers warmth to the turmeric latte recipe, but gifts potential health benefits. New research even suggests cinnamon can lead to weight loss, along with previous and ongoing exploration to manage blood sugars, lower cholesterol, control muscle spasms and gas.
Nutmeg
Similar to cinnamon, nutmeg lends a nutty and slightly sweet and warm aroma and flavor to the latte recipe. The spice has shown to support heart, brain, skin, and oral health, along with boosting the immune system and combatting against insomnia.