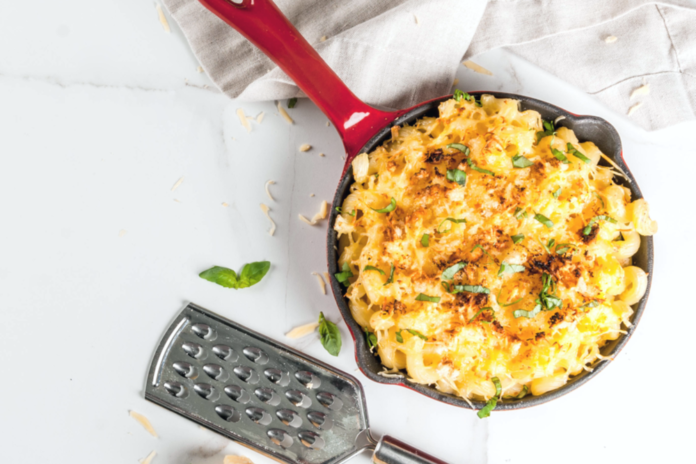 Mac and cheese is a comforting, crave-able dish loved by many. It can have a variety of cheeses used, and bread crumbs are a common topping. 
However, there are many more mac and cheese toppings you can add to elevate this dish by adding texture or a different flavor. Instead of serving traditional mac and cheese, why not top mac and cheese with something distinctive to give it a fun twist?
Stir up your classic mac and cheese with these top rated unique toppings!
10 Unique Mac and Cheese Toppings
Mac and cheese recipes often layout to cook the pasta until al dente, add the cheese and milk, heat, stir, and season with salt and pepper. Take the extra step and include these unique mac and cheese toppings for the ultimate meal!
1. Crushed Chips or Crackers
Topping mac and cheese with crushed chips or crackers will add a slightly salty crunchy texture. In order to not over power with salt, use low sodium chips or cut back on added salt when making mac and cheese.
Place chips/crackers in a plastic bag as you crush them with a roller, or grind them in a food processor. If adding crackers, slightly moisten them with melted butter for the best outcome. Top with desired amount of crushed topping before baking.
Experiment with using different chips and crackers as a topping to see what goes good with mac and cheese for your preference.
Options for chips or crackers as a mac and cheese topping can include:
Kettle potato chips. As a thicker cut chip, kettle chips can work well for adding crunch even when they are crushed.
Tortilla chips
Buttery crackers
Cheese crackers
Saltines
Dorito chips
2. Crushed Cheetos
If you are a fan of cheetos, using them as a topping for mac and cheese will be a game changer. They add an extra crunch and extra cheese flavor.
Any type of cheeto can be used for a topping: crunchy or puffs or even flaming hot cheetos.
3. Herbs and Spices
If you want a simple but flavorful topping for mac and cheese, start with adding different herbs or spices. Adding some fresh or dried herbs can be an easy way to elevate mac and cheese without adding more prep time in the kitchen.
The following seasonings can be added on top of mac and cheese for depth of flavor:
Fresh basil (optional add diced tomatoes too)
Fresh parsley
Chives
Everything but the bagel seasoning
Diced scallions
Dried Italian seasoning blend
Chopped sage leaves
Experiment with using other seasonings as desired and using a combination of herbs and spices.
4. Truffle Oil
Truffles are a notoriously expensive, indulgent tasting ingredient. Using truffle oil is a less expensive, more practical way to enjoy truffle flavor. The key to using truffle oil is not using too much which can be off putting. A little goes a long way.
For using truffle oil as a mac and cheese topping, sprinkle just a small amount on top after cooking. Truffle oil is considered a finishing oil that is usually not cooked with. You can also toss cooked noodles with truffle oil before adding in the cheese sauce to the truffled mac and cheese. 
5. Pico de Gallo
What happens when you add pico de gallo as a mac and cheese topping? You get a delicious, queso dip-inspired dish. 
Pico de gallo will add some heat and texture as a topping to your mac and cheese. Adjust heat level to your liking by using more or less jalapenos.
6. Green Vegetables
Adding in more green vegetables to the diet is always a good idea. Green vegetables need not be a side item along mac and cheese; many can pair well as a topping on mac and cheese and add both flavor and texture.
Raw broccoli might not the best choice on mac and cheese, but roasted broccoli on top can be delicious!
Other mac and cheese green vegetable toppings:
Sauteed asparagus
Chopped arugula with fresh herbs
Green peas (frozen can be an easy addition)
7. (Plant-Based) Meatballs
Meatballs and mac and cheese are not a unique combination. They tend to go together fairly well. Most mac and cheese recipes with meatballs use pre-cooked, frozen and thawed meatballs to add to mac and cheese during baking.
However, what can be a unique twist as a topping is using a plant based meatball with Impossible Burger or other vegan meatballs.
8. BBQ
Some people (but not all!)  like to top mac and cheese with a tangy sauce like BBQ sauce, ketchup, or hot sauce. 
However, you can elevate mac and cheese by adding BBQ foods like pulled pork, beef, chicken, or even BBQ cauliflower. This topping makes mac and cheese a hearty, satisfying meal.
9. Kimchi
Kimchi and other probiotic food sources are an upcoming trend for 2021, as they are considered gut-healthy foods. Kimchi is fermented vegetables and a traditional staple in Korean cuisine. However, kimchi has been growing across the globe as a go-to addition for salads, sandwiches, pizza, and now even mac and cheese. 
Kimchi can easily top mac and cheese as it comes out of the oven, stove top or microwave for a gut friendly topping.
10. Hummus and Zatar
Besides Korean and Mexican, mac and cheese can also have a Middle East flavor with hummus and zatar spice blend. While adding hummus straight on top of mac and cheese may not seem appetizing, hummus and tahini can be mixed in with a cheese sauce.
Zatar can be sprinkled on top of mac and cheese to complete the Middle East flavored dish. This hummus and zatar inspired mac and cheese shows the steps for perfecting this unique combination. 
Build Your Own Mac and Cheese Bar
A fun way to experiment or introduce new toppings for what goes with mac and cheese is to have a build your own mac and cheese bar.
Choose your variety of toppings you and others want to try and put them out in a buffet like style. This can help you choose what you like, and do not like, on your mac and cheese without potentially wasting a whole dish of mac and cheese.
Plus, it can be a fun way to experiment with new toppings!
Final Thought
These 10 unique toppings will broaden what you think goes with mac and cheese. Mac and cheese is a versatile base that can go in so many directions from simply adding herbs/spices, green veggies, pico de gallo, crushed chips/crackers, cheetos, kimchi or BBQ.
Have fun experimenting with mac and cheese toppings with your own mac and cheese bar to try new toppings in smaller portions.