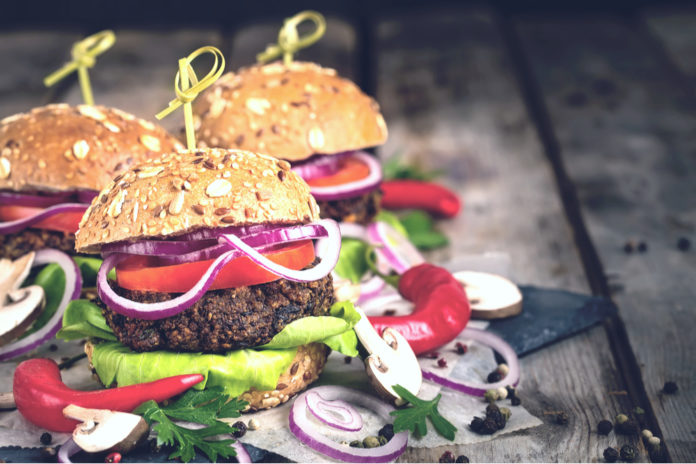 Impossible (adjective): Incapable of being or of occurring. Or, "felt to be incapable of being done, attained, or fulfilled: Insuperably difficult."
So how did Impossible Foods, Inc., parent of the Impossible Burger, do, well, the possible?
Find out what makes the Impossible Burger such a unique, plant-based product and how it stands against a traditional beef burger.
NUTRITION & INGREDIENTS OF IMPOSSIBLE BURGER
From veggie burgers to texturized chicken nuggets, it is no denying plant-based foods are no stranger to the food industry. While technology advances, so do these products.
And perhaps the most noteworthy product… The Impossible Burger.
The Impossible Burger is "delicious, nutritious, and made using but a small fraction of the land, water, and energy required to make meat from a cow."
A Stanford professor and plant-based eater himself, Patrick O. Brown took a sabbatical in 2011. His goal? Only to make the food system more sustainable on a global scale…
Fast forward to 2016, Impossible Foods launched the Impossible Burger after rigorous months of taste tests and other sophisticated studies. But perfecting the burger did not stop there.
In January of 2019, the Impossible Burger 2.0 was created and started to become an intriguing fixture of fast food menus. You know, that notorious Impossible Whopper exclusive to Burger King. Even know, the plant-based meat can be found on grocery store shelves.
But what exactly is in this Impossible Burger and is it considered a healthier option to standard burgers?
Ingredients of the Impossible Burger
When thinking of burger ingredients, you may be picturing a single package of ground meat. But like many processed foods, or foods that are altered or transformed in any way, the ingredient label is quite extensive.
The official site reveals the entire list:
Water, Soy Protein Concentrate, Coconut Oil, Sunflower Oil, Natural Flavors, 2% or less of: Potato Protein, Methylcellulose, Yeast Extract, Cultured Dextrose, Food Starch Modified, Soy Leghemoglobin, Salt, Soy Protein Isolate, Mixed Tocopherols (Vitamin E), Zinc Gluconate, Thiamine Hydrochloride (Vitamin B1), Sodium Ascorbate (Vitamin C), Niacin, Pyridoxine Hydrochloride (Vitamin B6), Riboflavin (Vitamin B2), Vitamin B12.
To make sense out of the ingredients, the Impossible Burger is a patty made from soy, oils, flavorings, and other binders.
You might be wondering, though, "What sets the Impossible Burger apart from other plant-based burgers?"
Answer: Heme
Heme is an iron-containing compound that gives blood its red color and helps carry oxygen throughout the body. Iron in animal muscle and blood is bound to heme, whereas any iron from plants is considered to be non-heme.
Researchers found heme was responsible for a major health benefit, but for making meat craveable. This discovery led to the mass-production of a plant-derived heme molecule from the soy root known as leghemoglobin. And, truly, unique heme compound is what separates the Impossible from standard soy texturized products.
All-in-all, the union of these ingredients gives the plant-based burger its meaty texture and taste. They also sculpt the Impossible Foods burger nutrition facts.
Impossible Burger Nutrition Facts vs Beef
The Impossible Burger was first launched in 2016, though. It is said to feature 30 percent less sodium and 40 percent less saturated fat than the original.
Based on the site's sported Nutrition Facts label, a 4-ounce (113 gram) serving of the Impossible Burger includes the following:
Calories: 240 cals
Total fat: 14 grams (g)
Saturated fat: 8 g
Total carb: 9 g
Dietary fiber: 3 g
Added sugars: 1 g
Protein: 19 g
Sodium: 37 milligrams (mg)
So how does it stack up to a traditional burger? We compared the Impossible to a 4-ounce burger made with 80/20 ground beef using the USDA's food database:
Calories: 308 cals
Total fat: 20 g
Saturated fat: 8 g
Total carb: 0 g
Dietary fiber: 0 g
Added sugars: 0 g
Protein: 29 g
Sodium: 84 mg
Thanks to the fortification process, the Impossible Burger supplies a number of nutrients often exclusive to meat products. These include the previously mentioned heme iron and vitamin B12.
Is the Impossible Burger a Healthier Option?
With the ingredients and nutrient profile unveiled, is the Impossible Burger a healthier alternative to a beef burger?
The Impossible Burger protein content is 19 grams, which is 10 grams lower than the burger. It has the upper hand on fiber content, which meat lacks, and an advantage of heme iron other plant-based products fall shy of.
However, even with the updated Impossible Burger 2.0 version, sodium and saturated fat remain high for a plant-based product. To put these numbers in perspective, the American Heart Association encourages to eat no more than 5 to 6 percent of total daily calories from saturated fat, which is about 13 grams in a 2,000 calorie diet.
But in the defense of Impossible Food, they do not market their burgers to be a healthier product. The company site clearly states its bold mission is:
"TO SAVE MEAT. AND EARTH."
"We're making meat from plants so that we never have to use animals again. That way, we can eat all the meat we want, for as long as we want. And save the best planet in the known universe." The mission that motivates them has led to some pretty impressive stats:
"Today's Impossible Burger requires about 75 percent less water and 95 percent less land and generates about 87 percent lower greenhouse gas emissions than a conventional burger from cows. And while it has the iron and protein, the Impossible Burger is produced without using hormones or antibiotics and contains no cholesterol."
The Bottom Line: If trying to cut down on animal meat, the Impossible Burger is a protein-rich alternative. But it is important to not fall into the health halo commonly linked to plant-based foods, as they can still be rich in carbohydrate, saturated fat, and sodium.
Truly, a healthy diet should feature a variety of nutrient-dense foods. Balance highly processed foods with wholesome ones, including fresh fruits, veggies, and whole grains.