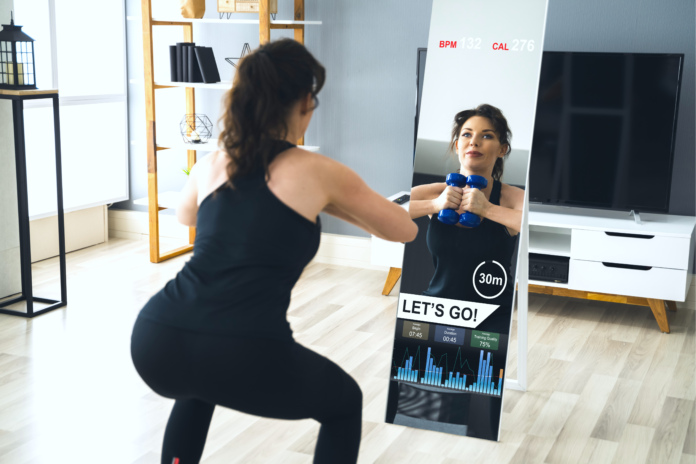 New fitness equipment, gear, and lifestyle products are constantly emerging to serve the ever-evolving exercise culture. Discover fitness things you never knew existed and find other fitness products that can help elevate your exercise routine in this curated list!
Smart Fitness Equipment
Smart exercise equipment is great for those who love tech and nerding out on data!
FORME Life Studio
Bringing a boutique fitness experience to the home, FORME Life Studio is a full-length smart mirror that broadcasts various workouts like strength, cardio, yoga, and boxing.
It also features a touch screen and voice-controlled display, along with A.I. technology that personalizes coaching based on current fitness level. And it doubles as house decor!
InteractiveStudio
The InteractiveStudio might be one little piece of equipment, but it is mighty!
One can receive personal training and gain access to recovery equipment, adjustable dumbbells, and kettlebells, plus a full library of on-demand workout classes to try. (All from a cozy living room or another small area!)
The interactive studio also uses performance tracking and recommendations to ensure progress over time.
Liteboxer Bundle
With the Liteboxer Bundle, turn anywhere into a boxing arena. The freestanding boxing device guides punching combos with LED lights.
The Liteboxer Bundle syncs music with the workout and tracks power, accuracy, and punches per minute with built-in sensors. Trainer-led boxing classes, solo options, strength training, and yoga classes are available with the app.
Best Affordable Fitness Products
The products in this list provide the most bang for the buck!
Board30 Mini
The Board30 Mini is an at-home five to six-foot slide board and brings its strength and cardio workouts to the home. It touts it will boost power and agility from its signature side-to-side movements.
The Board30 Mini comes with a subscription to an on-demand library of slide classes like yoga, bootcamp, and recovery sessions.
P.Volve Ultimate Toning Kit
The P.Volve Ultimate Toning Kit is an all-in-one package! It provides inclusive toning gear like free weights, resistance bands, sliding disks, wrist and ankle weights. The app helps to guide exercise sessions.
Power Tower Workout Dip Station Home Gym PRO
The Power Tower Workout Dip Station Home Gym PRO holds up to 300 KG and features a dip stand for tricep work. It also contains a cushioned back support to facilitate exercise that works the arms, chest, shoulders, and upper body in general. 
Overall, the powerful tower is very easy to use and suitable for various fitness and strength-building workouts.
Most Unique Exercise Gear
Fitness product designers are creating ways for exercise to be available and accessible to all – even at work!
Cubii Smart Under Desk Elliptical
No more excuses thanks to the Cubii Smart Under Desk Elliptical! This elliptical fits under a work desk so you can phone and email while pedaling. It connects via bluetooth to a mobile app for making weekly goals and monitoring progress.
With eight levels of resistance, there is an appropriate intensity for different occasions. And not to mention, it is incredibly quiet so it does not bother coworkers.
LFJ Pulley System
Build strength and recreate part of a real gym right at home with the LFJ Pulley System. This revolutionary fitness cable is transportable and facilitates many exercises such as:
Tricep pushdowns
Seated lat pull-downs
Bicep curls
Shoulder pulls
…And many others!
The pulley system also comes with an adjustable steel cable, 3 carabiners, a tricep rope, a nylon strap circle. The adjustable loading pin provides vast versatility for these exercises.
Concur Mini Trampoline
Jumping on a trampoline is not only for children anymore! The Concur Mini Trampoline is a safe and stable rebounder. It comes with an adjustable, attached handle that is anti-slip and cushion-covered.
Rebounding is not only fun, it promotes lymphatic flow, better balance, stronger immune function, enhanced mental wellness, weight loss, muscle toning, and increased bone density.
Recovery Equipment
Recovering from workouts is just as important as putting in the work, and these products take recovery to the next level.
Recoup Fitness Cryosphere Cold Massage Roller
Useful for pre and post-workout recovery, the Recoup Fitness Cryosphere Cold Massage Roller provides pain relief, improves circulation and mobility, and reduces inflammation.
The roller is great for common injuries like the rotator cuff, shoulder impingement, tendinitis, and overuse.
Infrared Sauna Blanket
Perfect for home or while traveling, the Infrared Sauna Blanket increases the body's thermal energy and promotes a temporary increase in blood flow.
One can sweat like they are working out while actually lying down! It is touted to provide an uplifting sensation for a healthy, rejuvenating experience.
Wave Roller
Upgrade from a typical recovery foam roller with the wave version. The Wave Roller combines powerful vibration therapy and a unique texture to deliver powerful, efficient foam rolling.
The tool's bluetooth enabled, allowing for connection to an app for personalized recovery recommendations that increase mobility and release the tightest of tensions.