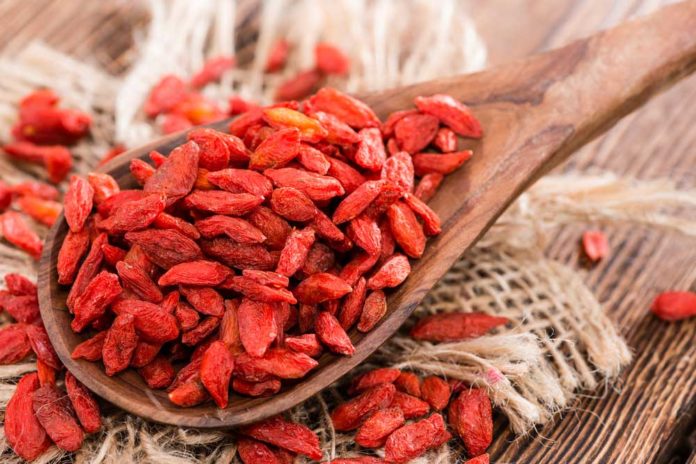 When it comes to berries, we generally think of blueberries, strawberries, rasp… Well, you get the point. And while they continue to have their berry valuable place in the diet, we must not disregard the berry bounty that exists beyond our norm. In fact, goji berries' health benefits will make you wonder just why they have not been considered up until now!
What Are Goji Berries?
Also known as the wolf berry, the goji berry is native to China and used in traditional Chinese medicine for millenniums. The bright orange-red berry appears like an oversized red raisin and unlike most berries generally found in modern grocery stores, goji berries are oftentimes sold in bulk in specialty or herbal shops and purchased in their dried form. Their taste is described as the combination of cranberry, cherry, and tomato, and are generally consumed much like a raisin, including the addition to trail mixes or morning oats, mixed into rice and chili, or enjoyed simply as a snack. But their intake contributes to much more than flavor, but offers a bounty of nutrients and a number of health benefits, including the eight identified below!
Goji Berries' Benefits
1. Weight Losing and Maintaining
Per ¼ cup serving, goji berries supply 90 calories with four grams of protein and fiber. Diets rich in protein and fiber, all while being low in calorie, has shown to keep weight in check with the potential to facilitate weight loss.
2. Bowel Regulating
Fiber is imperative for digestive health, keeping bowels regular and combatting against constipation. A quarter cup provides 10 and 16 percent of total daily fiber needs for men and women, respectively. Adequate fiber intake has also been touted to protect against conditions of the bowel, including hemorrhoids and various cancers.
3. Eye Protecting
Goji berries contain zeaxanthin, a carotenoid shown to protect eyes from harmful high-energy light, including ultraviolet rays from the sun. Regular consumption of the berry has further shown to lessen the risk of age-related macular degeneration (AMD), the primary cause of vision loss in the elderly. The rich vitamin C content goji berries supplies may also reduce the risk of cataracts, or the clouding of the eye's lens.
4. Blood Sugar Stabilizing
Higher fiber foods are suggested to stabilize blood sugars and reduce the risk of severe spikes and dips. Managing blood sugars lowers the risk of complications caused by diabetes.
5. Muscle Stimulating
Though a large protein supply comes from animal-based sources, goji berries offer not only serves as a plant-based protein, but 18 amino acids. Protein plays an imperative role in muscle maintenance and gain, subsequently persevering lean muscle mass and strength.
6. Cancer Fighting
Berries are bursting with antioxidants, goji berries included. From its potent vitamin C content to its robust polyphenols, goji berries may fight against cancer and tumor growth. In fact, an animal study suggests drinking the juice of goji berries protects against sun damage, subsequently reducing skin cancer.
7. Anti-Aging
Although gaining a candle on the birthday cake is inevitable each year, goji berries have been reported to have anti-aging properties, particularly one of the primary properties sought out for in Traditional Chinese Medicine. The high content of carotenoids and polyphenols, two potent antioxidants, have been suggested to combat against oxidants, ultimately inhibiting cell death that likely contributes to accelerated aging. Its vitamin C content also has a key role in defying the aging process, primarily attributed to its antioxidant properties and production of collagen.
8. Mood Boosting
Drinking the juice from goji berries have shown to increase energy levels, subsequently boosting mood. In fact, a research study published in the Journal of Alternative and Complementary Medicine suggested daily consumption of goji increased subjective feelings of general well-being and improved neurological and psychological performance in just a mere 14 days.
It is important, though, to mention goji berries may have potential side effects with various medications, including diabetes and blood pressure prescriptions. Additionally, evolving research suggests the intake of goji berries may initiate an allergic reaction, particularly in individuals with an identified food allergy. Besides the urge to verify such interactions, goji berries are generally considered to be safely consumed in moderation.