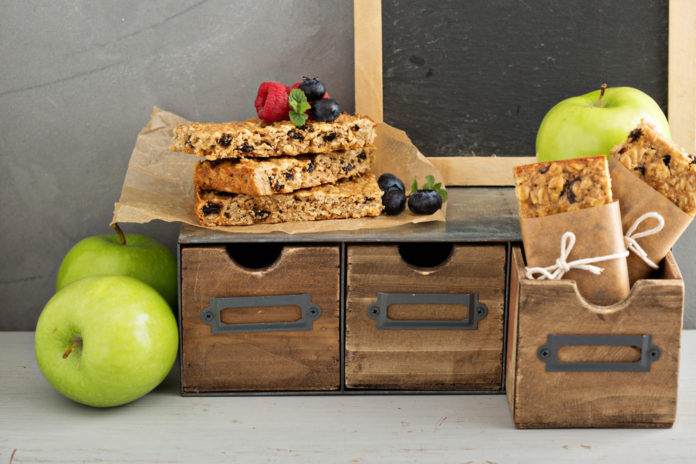 From grabbing lunch with your coworkers to snacking during morning meetings, food is commonly abundant at work. Commonly too, though, the available or sought out food is not the most healthful options. But with these five work food and snack ideas, feel inspired to achieve your health goals and foster a healthier work environment!
Eating Healthy at Work
1. Eat Breakfast
Although reaching for a quick, on-the-go breakfast appears to cut corners and make for swifter mornings, the items you commonly choose may not contribute to the fuel you need. So before heading to work, consume a well-balanced meal or take breakfast to go. Quick ideas include these overnight oats, a nutrient-dense smoothie, Greek yogurt and a piece of fruit, or an easy-to-prepare breakfast burrito!
2. Pack A Nutritious Lunch
While it may be simple to head down to the cafeteria or continually heading out to lunch with coworkers, it may be taking a toll on both your wallet and health goals. So rather than continuously heading out to lunch, pack these healthy lunch ideas at the office!
3. Defeat the Snack Attack
Especially if sitting at a desk or routinely attending meetings, the itch to snack might become too much of a common practice. While a snack can reduce the likelihood of overeating come mealtime, they do need to remain nutritious and portioned. Instead of taking these common workplace snacks, try a more healthful option.
4. Ditch the Candy Dish
It is far too common… You walk past the candy dish and say, "Only one piece…" But that "one piece" turns into consistent traps of temptation and before you know it, empty candy wrappers barricade your desk. So rather than continuously gravitating to the pull of the candy dish, swap it out with a colorful fruit basket. While it may spark irritation in the beginning, its exposure may encourage increased fruit intake across the company.
5. Offer Lunch and Learns
Start up and implement lunch and learns! In your office or department, choose a weekly day or date each month to learn about health and nutrition. On designated days, encourage employees to pack a nutritious lunch and rotate employees to conduct a fun lesson to highlight various topics. Preparing themed food samples can also adhere their attention and offer them the opportunity to explore new foods and recipes.
Unless you are a personal trainer, professional athlete, or choose any other active career, working in a sedentary job is common. So in addition to eating healthy at work, remodel and implement an active work culture by…
…installing standing desks.
Rather than sitting down at your desk, stand while typing on the computer and answering the phone. Stand-up desks can offer the legs an opportunity to stretch while improving muscle tone, posture, and blood flow. While standing, also try to complete squats or lunges at least twice a workday.
…practicing office yoga.
Not much time to head to the yoga studio? Bring the class to your office! With these poses, you can reduce stress and restore the mind and body to tackle the rest of the workday!
…taking employee workout breaks.
Whether with a desk mate or as a whole company, take employee workout breaks on a weekly basis or other times that flow best in your work climate. Even if just a 20-minute walk around the work property or halls, taking workout breaks together can boost greater support.
…competing in health challenges.
Sometimes a little friendly competition is exactly what you need to withhold and accelerate motivation. Challenge your coworkers with a step challenge or who can bring healthy, packed lunches for the longest streak.
…hosting an event.
Host an event to encourage external involvement. For instance, host a fun run or walk and collaborate with a local eatery for post-nutritious snacks. Grow participation by inspiring close friends and family to attend, while also taking to media and other available outlets to post details regarding the event.