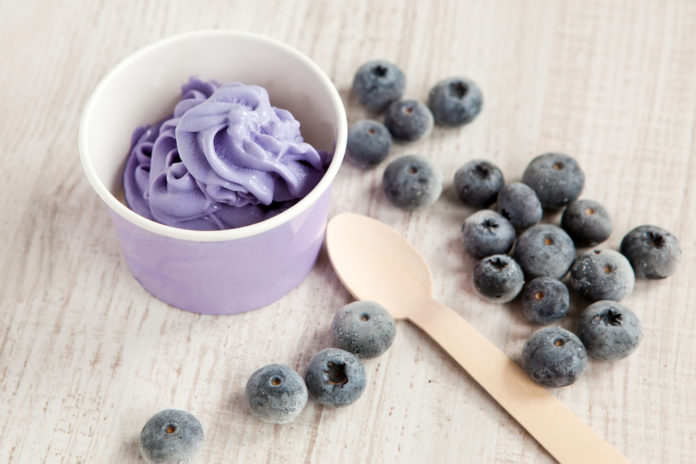 Considering the favorable reputation attached to yogurt, health-goers generally gravitate to frozen yogurt as a health conscious dessert alternative. But whether choosing between an ice cream or frozen yogurt franchise or maneuvering through the frozen aisle section, is selecting frozen yogurt actually a more nutritious go to? Balance is scooping out four chilling answers to your question, "Is frozen yogurt healthy?"
Is Frozen Yogurt Healthy?
1. When it comes to frozen yogurt versus ice cream, what is the difference?
From the exterior, a cup of frozen yogurt and ice cream may appear identical. But spoon a little deeper, and the nutrition facts vary primarily based on their ingredients. Unlike frozen yogurt, ice cream (as its name suggests) is created from cream, which contributes to its higher fat content. Frozen yogurt is mostly produced with milk (liquid or powdered), yogurt cultures, and sugar. Based on a one cup portion size, ice cream contains 275 calories, 5 grams (g) of protein, 31g of carb, 15g of fat, and 9g of saturated fat. And based on the same portion, frozen yogurt contains 221 calories, 5g of protein, 38g of carb, 6g of fat, and 4g of saturated fat.
2. If frozen yogurt is lower in fat, can I eat a larger bowl?
Although frozen yogurt appears to have lower fat content, justification for a larger bowl is not warranted. In fact, the fat content of frozen yogurt can fluctuate based on the type of milk used, including non-fat, low-fat, and full-fat varieties. And even if produced with a lower fat milk, a bowl of plain frozen yogurt still does supply calories primarily from sugar. Add on the varying toppings, the nutritional content may heighten substantially. It is still important to practice the concept of moderation and remain mindful of the amount and type of toppings.
3. Are there any health benefits of frozen yogurt?
Largely associated to its absence of fat and addition of probiotics, frozen yogurt promotes itself as a more healthful dessert option. And also being a dairy product, the calcium content is also significant. But health experts concern that healthful probiotics may not be as ample as traditional yogurts, as the freezing process may kill them off. Some companies are making great efforts to add back the probiotics, with the "live cultures" label claiming whether or not they are in fact offered. Also considering the intensifying link between sugar intake, weight gain, and chronic disease, it is still important to remain cautious of frozen yogurt's sugar content much like ice cream and any other dessert.
4. Is frozen yogurt a well-balanced meal?
Yogurt is often advertised as a nutritious breakfast or lunch option, especially if protein-packed Greek yogurt is complimented with fresh fruits, nuts, and seeds. But resorting to a bowl of frozen yogurt may not be the most ideal alternative, as a well-balanced meal mostly contains adequate protein that frozen yogurt falls fairly shy of. And while "the more color, the more nutritious" is commonly suggested as a general health guideline, vibrant sprinkles should not take the place of daily veggie intake…
Scoop Your Frozen Yogurt & Eat It, Too
Watch Portion Sizes
A recommended serving size of frozen yogurt is a half cup, approximately the size of a tennis ball. Especially if at a frozen yogurt franchise, select the smallest serving cup offered to reduce the risk of overdoing it.
Choose Toppings Wisely
Along with moderating the portion size of the frozen yogurt, choose what tops it wisely. Fresh fruits can offer a natural sweetness while nuts provide a desirable crunch. But if truly craving the sugary candies, cookies, and brownie pieces, keep the portions and options limited, as mounding various toppings mounds on serious calories.
Limit Fat-Free Options
While fat-free is consistently viewed as a more healthful product, the lack of fat is generally compensated with more added sugar. Importantly, too, stay mindful of "sugar-free" products, as artificial sweeteners may cause unpleasant gastrointestinal symptoms. Additionally, more established research indicates higher fat dairy products may even contribute to weight loss, mostly related to its satiety effects.
Frozen Yogurt Social
Enjoy frozen yogurt socials with your loved ones! Continue to treat frozen yogurt as a treat, relishing it on special occasions in the presence of good conversation!