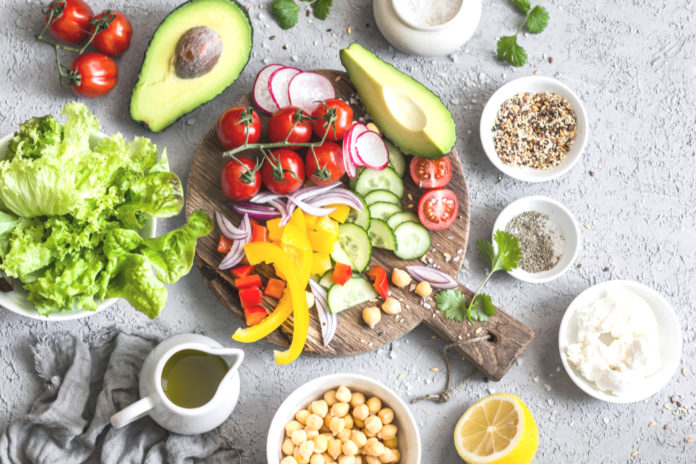 The Mediterranean was popularized in the 1960s and garnered public attention. While still popular in the public eye, the new Mediterranean diet is making a name for itself.
This green diet shares many tenets of its original namesake but further emphasizes all green diet benefits. Specifically, the diet goes even beyond traditional dark leafy greens and green vegetables and includes unique green-plant proteins like duckweed or green tea.
If curious about the new green Mediterranean diet, read on to learn more about its nutrient composition and potential benefits.
What Is the Green Mediterranean Diet?
The "green" Mediterranean diet, or simply the green Med diet, shares many of the components of the traditional Mediterranean diet it is based upon. The Med diet blends the basics of healthy eating with heart health, traditional herbs and cooking methods, and positive practices. These include sharing meals with family and friends and making a point to be physically active each day.
The Mediterranean diet focuses on having a high intake of plant-based foods such as fruit, vegetables, legumes, and healthy fats such as extra virgin olive oil. It also suggests a moderate intake of fish and dairy products and a low intake of red meat and red wine.
It became popular in part because the flavorful spices and herbs used in Mediterranean cuisine help add seasoning while keeping the salt content low or out of the cooking process altogether. Unfortunately, adherence to this diet can dwindle in westernized regions where diets rich in highly processed foods (which tend to be laden with unhealthy fats, added sugar, and extreme levels of salt) reign supreme.
Green Med Diet Specifics
The green Med diet adds to what is considered one of the healthiest diets based on scientific studies for reducing health risks, including heart disease and type 2 diabetes. It emphasizes even more the importance of a plant-based diet by highlighting plant-derived iron and protein. This solves a major problem for people trying to go plant-based in their health habits.
Many times, decreased dietary meat leads to depletion of the body's iron stores. The green Mediterranean diet keeps the successful components of the Mediterranean diet but incorporates the added emphasis of bioavailable plant sources with higher levels of iron and protein needed to replace dietary meat and animal protein.
How Does It Differ?
While the old and new Mediterranean diets share many similarities, westernized practices seem to throw moderation out the window. This prompted researchers to seek out and study the effects of low-meat Mediterranean diets (green-MED) and measure the results.
Iron homeostasis, a critical component of health that is often mediated and regulated through intake of dietary meat, was found in a recent study to be balanced effectively through a green Mediterranean diet supplemented with Mankai Duckweed and green tea. This study, as well as a growing body of research, shows promising results and implications for a future full of bioavailable plant proteins that can easily replace dietary meat while offering an array of nutrients for a balanced body.
In combination with diet, the green Mediterranean diet suggests that in tandem with healthy eating habits, one should combine physical exercise with the personalized approach of health professionals. While functional foods like green tea, walnuts, yerba maté, and duckweed have been shown to produce clinically meaningful benefits, an individualized approach to healthcare is crucial to disease management.
Plants over Meat, Once Again
A key component of this diet is to keep meat and poultry consumption in check so that the cardiometabolic protective effects can be put into place in the body. Health professionals, including dietitians, can help to suggest diet and lifestyle management skills so that healthy eating patterns can be informed with the most recent research.
Each component of the Mediterranean diet has unique characteristics designed to provide a protective approach to healthy eating. The green Mediterranean Diet adds another layer to this holistic perspective by implementing healthy diet components that emphasize bioavailable plant nutrients.
Functional foods show promising results as part of the green Mediterranean diet thanks to particular plant components called polyphenols and flavonoids. These plant compounds show to mediate metabolic disorders, stress hormone production, and weight loss and management.
All Green Diet Benefits
The green Mediterranean diet has a host of potential benefits. Functional foods incorporated in this eating pattern have shown the following meaningful benefits based on recent research and ongoing investigations into their healing properties:
Regulation of metabolic and microvascular activities
Improved lipid profile (a measure of heart health)
Decreased inflammation and oxidative stress (cell damage)
Metabolic and cardiovascular protective benefits
Enhanced energy expenditure
Improved diabetes outcomes
Glucose control
Reduced complications
Protective effects for high-risk populations
As mentioned previously, the green Mediterranean diet shows the most potential in situations where it is also combined with physical activity and other behaviors designed to mediate risk factors.
In other words, the green Mediterranean diet is most effective when enhanced with positive practices in lifestyle and the surrounding environment. Integrating a green Mediterranean diet into a healthy lifestyle can have a potentially protective effect.
References:
Alkhatib A, Tsang C, Tiss A, et al. Functional Foods and Lifestyle Approaches for Diabetes Prevention and Management. Nutrients. 2017;9(12):1310. Published 2017 Dec 1. doi:10.3390/nu9121310
Ellis E. Make it Mediterranean. Academy of Nutrition and Dietetics. 2020. https://www.eatright.org/food/planning-and-prep/cooking-tips-and-trends/make-it-mediterranean.
Mayo Clinic Staff. Mediterranean diet: A heart-healthy eating plan. Mayo Clinic. 2020. https://www.mayoclinic.org/healthy-lifestyle/nutrition-and-healthy-eating/in-depth/mediterranean-diet/art-20047801.
Meir AY, Tsaban G, Zelicha H, Rinott E, Kaplan A, et al. A Green-Mediterranean Diet, Supplemented with Mankai Duckweed, Preserves Iron-Homeostasis in Humans and Is Efficient in Reversal of Anemia in Rats. J Nutr. 2019:149(6);1004-1011. https://doi.org/10.1093/jn/nxy321

Tsaban G, Yaskolka Meir A, Rinott E, et al. The effect of green Mediterranean diet on cardiometabolic risk; a randomised controlled trial. Heart. 2020. doi: 10.1136/heartjnl-2020-317802.