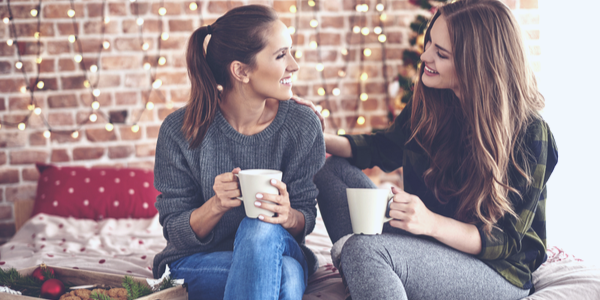 The holiday season can be full of merriment. However, "holiday blues", holiday sadness, and post-holiday depression may be more common than one would think. Between family obligations, changing seasons, and other stressors, blue holidays can seem hard to beat. 
Read on to better understand holiday sadness, and get 5 of the top tips to help beat holiday blues.
Are Holiday Blues Real?
"Holiday blues", a term that typically refers to seasonal depression, is quite common. Studies suggest that almost 15% of Americans deal with seasonal depression or "winter blues".
Not only are holiday blues real, those who deal with them are not alone in their struggle. Luckily, starting to understand seasonal patterns and sadnesses is a key part of managing symptoms. 
Common Causes of the Holiday Blues
Some situations that arise during the holidays can make merriment and celebration seem impossible. These include:
Isolation (or the temptation to "hunker down")
Feeling stuck in old traditions
Feeling lonely during a time focused on togetherness
Survivor guilt
The weight of expectations
Staying somewhere that brings back bad memories
Many symptoms of depression during the holiday season can be eased by connecting with other people. Whether it be mental health professionals, a support group, or just understanding family and friends, reach out to someone who can make the holidays a more pleasant experience.
Why Do We Get Holiday Blues?
Holidays like Christmas or New Year's Eve can be celebrations, but they can also signal the passing of time. A new year can seem overwhelming instead of welcoming sometimes. These back-to-back holiday events can trigger a stress response.  
How Long Do Holiday Blues Last?
Holiday blues may seem to last forever, and they normally make normal tasks seem harder than usual. For instance, the following activities may seem more difficult than usual:
Getting out of bed
Making meals
Exercising (i.e. taking a walk)
However, the holiday blues do not last forever! Sometimes, even after the holidays, one may experience post-holiday depression. Speak with a doctor about symptoms if they seem unrelenting.
Fortunately, with a few tips and some seasonal awareness, it can be easier to navigate triggering holiday events. While seasonal depression may seem to last forever, with the right help an appropriate treatment plan can be made to help things return to normal.
How To Beat Holiday Sadness & Post-Holiday Depression
Treatment plans may not be the same for everyone. However, most paths to managing seasonal blues share the following components. Try one tactic today and see if it makes a difference in the day!
1. Spot The Symptoms
Common symptoms of holiday sadness include:
Amplified depression
Increased tiredness
Decreased interest in activities that used to be enjoyable
Difficulty concentrating
Recognizing feelings is a crucial part of surviving, and thriving, during the holiday season. For example, crying can actually be a healthy way to express feelings. Talk to a therapist to find out healthy ways to deal with discomfort and pain (physical or emotional).
2. Look At Lifestyle Patterns
Often, taking a look at lifestyle factors can illuminate negative influences. Take a closer at the following factors:
Diet
Alcohol intake
Sleep hygiene
Exercise
Stress
After reflecting on lifestyle patterns, modify and adapt as needed. However, if finding yourself to be overly sedentary, try including more daily movement. Even a quick walk out in nature can mitigate holiday stress and post-holiday blues.
3. Set Boundaries
The holidays are not the time to overschedule or stretch oneself. Before the holidays get too crazy or chaotic, set clear boundaries and learn how to say "no" when necessary. 
Know that it is okay to take some time away from friends or family in order to find balance, even around the holidays. 
4. Try New Traditions
It is easy to set unrealistic expectations for the holidays. Try making new traditions if the old ones do not fit the present moment. 
Overall, be open to new holiday experiences and opportunities!
5. Seek Out Support
Especially for those who have lost a loved one or are experiencing a breakup, the holidays can be difficult. Whether grieving or gifting seems overwhelming, there are always people and professionals who can help.
Before or while feeling sad, reach out to loved ones. Also explore resources so that there is a game plan in place before depression sets in. 
Recapping Seasonal Blues
Not only are holiday blues real, but they also are more common than one might think. It is important to reach out to loved ones and professionals during times of seasonal depression. 
Setting solid boundaries and putting healthy habits into place can also make the holidays a bit more merry.
References:
Jaworski M. Holiday Depression: How to Beat Holiday Blues. PSYCOM. Published March 18, 2019. https://www.psycom.net/beat-holiday-depression/. 
Stress, depression and the holidays: Tips for coping. Mayo Clinic. Published December 11, 2020. https://www.mayoclinic.org/healthy-lifestyle/stress-management/in-depth/stress/art-20047544. 
Legg TJ. How to Deal with Stress and Depression During the Holidays. Healthline. Published December 13, 2019. https://www.healthline.com/health/depression/holiday-blues.