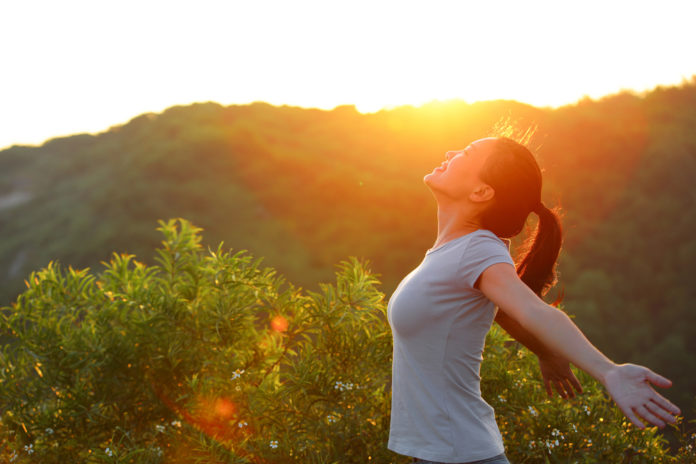 The hype of a "cleanse" floats around the health world and consumers latch on primarily in hopes to shed weight and detox the body from toxins. However, cleanses and detoxes are often misunderstood, as people often do not realize the human body has a natural ability to detoxify itself. Yep, the body houses several organs to remove waste, including the skin, liver, lungs, large intestine, and kidneys. Unfortunately, though, an Americanized diet and culture of stress can impede on the body's ability to carryout critical processes efficiently, and may even cause a number of health conditions. But by making modifications in the kitchen, de-stressing and resetting, and considering the external environment, you can grant yourself a natural detox and allow the body to heal itself of physical and mental stressors.
Your Guide to A Complete Body Cleanse
In the Kitchen
From stripping away processed products to going for whole foods, a natural detox requires cleaning up the diet with nutrient-dense sources and hydrating with water.
Strip Away Processed Products
While not all foods coming in bagged or boxed form are loaded with unwanted additives, the majority of processed foods often come with more than what you might have bargained for. Strip away products loaded with sugar, salt, and oils, as such ingredients have been identified triggers of inflammation, especially in large volumes.
Go for Whole Foods
Whole and plant-based foods have shown to protect the body's cells against damage, ultimately defending against and managing cholesterol, hypertension, and diabetes. Gearing towards plant-based proteins can also lessen the risk of cancer related to a reduction of processed meats and increase in fiber. Whole grains are also valuable fiber sources, while fresh herbs and spices such as turmeric boasts rich antioxidant properties. Healthy fats, particularly in the forms of monounsaturated and polyunsaturated fatty acids, provide antioxidant properties and are shown to fight against inflammation in the body and reduce the risk of heart disease. Fatty fish, flaxseeds, walnuts, and olive oil are rich sources of omega-3 fatty acids.
Keep Hydrated with Water
Water is often the primary ingredient for a body cleanse and for much reason. Water flushes body waste primarily in the urine, is the major component of most body parts and organs, and converts food to components needed for optimal body functioning. And not to mention, keeping hydrated with water is essential for promoting a healthy weight. General recommendations encourage adults to consume at least 64-ounces of water on a daily basis.
To De-Stress and Reset
Ongoing stress can compromise the health of your mind and body. De-stress and reset with the following tips.
Exercise
Exercise plays a key role in a healthy lifestyle and is touted for detoxifying your body. Although health experts are skeptical on whether or not exercise can rid toxins via sweat, it is well understood exercise improves blood flow and diminishes negative thoughts to cleanse the mind. The American Heart Association encourages at least 150 minutes per week of moderate exercise or 75 minutes per week of vigorous exercise (or a combination of moderate and vigorous activity). Incorporate strength training exercises at least two or three times each week to benefit the body's muscle cells and support an efficient metabolism. Also worthy of mentioning, any movement is better than no movement. So whether new to exercise or crunched for time, the importance lies in dismissing a sedentary lifestyle and taking the steps to be more active.
Meditate
Meditate to reduce toxins of the mind, along with reducing feelings of anxiety and depression and improve mental functioning. earn how to meditate with this beginner's how-to guide and reap instantaneous benefits, including greater feelings of well-being and lower levels of stress and anxiety.
Try A Digital Detox
There is no denying sitting down to screen time can compromise both physical and mental health, as it promotes a sedentary lifestyle while social media outlets have shown to compromise self-esteem. Limit screen time and give yourself a digital detox to guarantee higher productivity and energy levels, along with gifting richer life moments with people in real time. These interactions and relationships have shown to lead to happier, healthier, longer, and richer lives.
For the External Environment
While it is easier to control our internal surroundings, we must not discount the dangers of environmental exposures and how to counteract against them.
Consider Environmental Toxins
There are a number of environmental toxins that come in various forms, including pesticides, which often prompt recommendations to select organic foods as available. In fact, the exposure of certain pesticides has shown initiate oxidative stress, with other environmental exposures such as arsenic common to drinking water and some foods, BPA (Bisphenol-A) found in water bottles, and dioxins and furans released from industrial processes, airborne chemicals and heavy metals found in cigarette smoke are considered dangerous toxins.
Clean Your Air
While you cannot always change the external environment, make an effort to clean the air at home, work, and immediate surroundings. Reducing smoke, fumes, pet dander, and mold with an air purifier and homemade all-natural cleaners can help ensure fresher air in your personal surroundings.