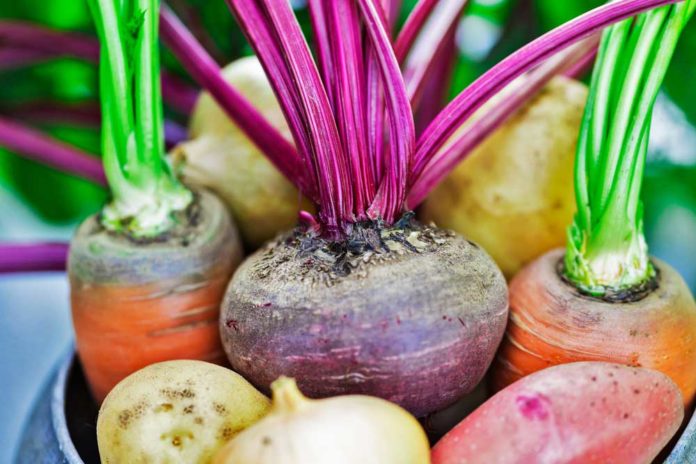 Root Vegetables List 
1. Carrots
Low in cost and versatile, carrots a widely used root veggie throughout the year!
How to Choose and Store
From whole to baby, carrots come in variable forms and even colors. But as a general guideline, try purchasing carrots with tops still intact and radiating a deeper orange color, also free of any splits, cracks, and emerging "hairy" roots. After getting them home, if purchased with their tops and not anticipated to be used right away, remove the tops to avoid the greens sucking out all the moisture. Carrots are best stored in a plastic bag in the refrigerator.
Nutrition
Carrots are mostly recognized for the vitamin A content, supporting and heartening eye health and vision. But beyond their contribution for eye care, the benefits of carrots include disease prevention, weight loss, constipation relief, blood sugar control, blood clotting, and skin health.
Preparation and Meal Ideas
Carrots can be consumed whole and raw with dips, blended into a creamy soup, mixed in salad, boiled or steamed, and even grated and used into a healthier carrot cake! 
2. Parsnips
Resembling carrots, parsnips are a long, tuberous root and display a cream-colored skin and flesh. Parsnips are mostly grown in the winter season, as it produces a sweeter flavor during this time.
How to Choose and Store
Though parsnips are available year-round, they gain sweetness frozen and underground in the winter and may be more desirable at this time. Look for parsnips that are firm, very white (devoid of brown and yellow centers) and smaller in size, as they offer a sweeter flavor.
Nutrition
Similar to other root veggies, parsnips offer fiber, potassium, folate, and vitamin C, making them extremely valuable for digestive, heart, brain, and immune health.
Preparation and Meal Ideas
Parsnips are enjoyed in various preparation methods, including steamed, mashed, or roasted. From its smooth and creamy texture to its addition in muffins, find five ways to prepare and eat parsnips here.
3. Potatoes
Potatoes tend to have a poor reputation circling around them, mostly based on its starchy content. Coming in round white, round red, russet, and other potato variations, they are actually a valuable and multipurpose root veggie!
How to Choose and Store
Despite the type, choose firm potatoes free of soft or dark spots, baring any green, and any sort of sprouting. If purchased in a bag, be sure to throw out any bad potatoes, along with storing them in a dry, cool, dark, and ventilated environment.
Nutrition
These starchy crops are not only versatile, but loaded with potassium. Just one cup of potatoes roasted, mashed, or baked provides 3,700 milligrams (mg), falling slightly shy of the daily recommendation of 4,700 mg. Keep the skins on for increased nutrient and fiber content and try to stray away from fried potatoes, as they are filled with calories and oftentimes those "unhealthy" fats.
Preparation and Meal Ideas
The starchy crop is extremely versatile and can be prepared baked with flavorful toppings, mashed, grilled, and roasted.
4. Sweet Potatoes
Similar to more traditional potatoes, their sweeter variation also may turn away heads of dieters. However, this root veggie is nothing short of sweet when it comes to its nutrient content and uses!
How to Choose and Store
Look for a sweet potato firm, smooth, and baring a deep orange color throughout. As a general guideline, small and medium sizes tend to be sweeter and creamier, while large ones are starchier. When the ends are dry and free of any rot, sweet potatoes can be stored up to two weeks in a dry, cool place such as the pantry.
Nutrition
Though in fact considered a starchy carb source, sweet potatoes contain valuable nutrients including vitamin A, with one sweet potato supplying over 300 percent of daily needs! Sweet potatoes are also significant sources of vitamin C, potassium, and manganese with a heaping amount of fiber.
Preparation and Meal Ideas
Sweet potatoes can be enjoyed in numerable forms, including lightly seasoned and roasted, mashed, as pancakes, into stews, or fries.
5. Beetroot
The rich color of this root vegetable may not be beet… Beetroot exposes a deep ruby color that attributes to both its visual and healthful appeal.
How to Choose and Store
Fresh beetroots should flash their greens and display no signs of spoilage. The beet itself should be free of any blemishes and firm to the touch. Detach the leaves before refrigerating, keeping them dry in the vegetable drawer.
Nutrition
Beetroots offer a healthy dose of fiber, folic acid, manganese and potassium. But most of the significant health benefits of beetroot is related to its betacyanin content, the plant pigment providing its color, as it is thought to protect against cancer. Research also shows drinking beet juice may fight the progression of dementia related to its nitrate content. Areas of the brain often lack blood supply with advancing age, a phenomenon thought to contribute to dementia and poor cognition; nitrates have shown to widen blood vessels, thus increasing oxygen-rich blood flow to the brain.
Preparation and Meal Ideas
Along with the infamous beetroot soup known as borsht, beets can be enjoyed juiced, pickled, topped onto sandwiches and salads, or even prepared as a dessert! The greens can be used the same way as spinach, such as sautéed and cooked or thrown into a salad.
6. Radishes
Radishes are grown and consumed throughout the world. Though they are mostly known for their red color, radishes can also bare the colors of white, purple, and black.
How to Choose and Store
Select firm and smooth-skinned radishes, free of any wrinkles and cracks. Choose crops with vibrant greens still attached, but discarding them before storing. Keep radishes stored in an open plastic bag for up to 10 days.
Nutrition
Radishes contain a significant amount of potassium, if not the most, as just one cup of radishes contains over 4,000 mg! They are also rich sources of vitamins C, folate, and fiber and have been promoted to regulate blood pressure, strengthen the immune system, ward off heart disease, relieve constipation, other extensive benefits.
Preparation and Meal Ideas
Try radishes raw, cooked, pickled and toss into salads to offer a peppery crunch. Radishes are also featured in these 13 tasty recipes!